rs125 riders/owners... kalau ada sape2 berminat nak order steering damper jenis sprint bagi tau aku sbb aku rasa nak sambar 1.
ada mcm2 jenis damper tapi yg lain lagi mahal.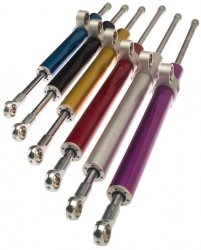 Sprint Pro-Race Type 1 steering damper & mounting kit.
Manufacturer: Sprint Dampers UK
Application: Aprilia RS125 06-11
Position: Side
Color: Black, Blue, Red, Gold, Violet or Silver.
About Sprint Dampers Pro-Race type 1 kits:
The damper is fully rebuildable and has 13 adjustable positions. The damper is a proven design that has remained unchanged for many years. The kit is bolt on and requires no modifications or cutting of the body panels or frame to fit.
Sprint Type 1 dampers are proven and tested by race and drag teams worldwide. They cover a wide range of applications incuding tank mounted 916 style, side mount and direct replacement fitments.
They feature 13 positions of adjustment, are fully serviceable and are available in a wide range of anodised colours to suit the colour of your bike. Fitting kits are available for a vast array of models from old to new.
Precision CNC machined from billet aluminium.
Sprint Dampers are the UK's leading manufacturer of steering dampers and kits with over 20 years experience, enjoying a worldwide market reputation.
Each kit is painstakenly researched, tested and engineered to fit each motorcycle to ensure our products are for the ultimate in performance.